Barbados Tridents vs Jamaica Tallawahs Prediction Match 12th CPL 2016
The match 12th of CPL 2016 will be Barbados Tridents vs Jamaica Tallawahs which will be played on 11th July 2016. Tridents will be welcoming Tallawahs on their home ground i.e Kensington Oval, Bridgetown. The match is going to be very interesting. It will be Kieron Pollard who will be ready with his brigade to tackle the king of sixes Chris Gayle. Every body is predicting the result of the match, so we are also up with the BT vs JT match Prediction. In this post you will get to know which team have higher chances of winning this upcoming battle of Caribbean Premier League according to us.
Barbados Tridents vs Jamaica Tallawahs Prediction :-
Before we comes to prediction, lets first look at the both the team. Taking Jamaica first, they are one of the most popular team of the CPL T20 and Chris Gayle is one of the big reason. He is loved all around the world and in West Indies he is most popular guy. From the inaugural season Tallawahs are associated with the tournament and became the winner in 2013. But in the next two season they were not able to reach to the finals.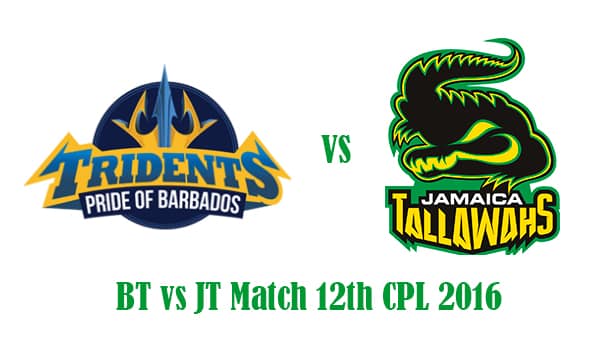 This year they have played 3 matches out of which got the victory twice and with 4 points standing on 2nd position on the CPL points Table. On both the occasion Chris Gayle scored runs, in the first match he scored fifty and in the very second match a big firing hundred with 11 sixes and 6 fours. So this is a good news for the team that Gayle is form. Kumar Sangakkara is one who can bring victory to the team single-handedly. Chadwick Walton, Shakib Al Hasan, Andre Russell, Rovman Powell are the other batsman they got. In the bowling department Tallawahs got Dale Steyn, Jon Jaggesar, Keswick Williams, Imad Wasim, Andre Russell & Shakib Al hasan.
Barbados Tridents also participating in the tournament from the first season and have reached to the finals twice in the history. In 2014 they have cashed the opportunity by winning the CPL title against Guyana Amazon Warriors by  runs. Last year they lost the finale against Trinbago Knight Riders by just 20 runs. So this shows the team have all the calibre which is needed to win the tournament.
This year in CPL 2016 BT have played only two matches and with one win, a lose they are on the fourth position with 2 points. They have 8 matches ahead in the tournament including today's BT vs JT match. This year south African batsman AB de Villiers joined the league and will play from the Tridents. So the team becomes more powerful than ever. Along with him Shoaib Malik, Kieron Pollard, Kyle Hope, Steven Taylor, Nicolas Pooran will be having responsibility of a good fighting score. Ravi Rampaul, Ashley Nurse, Akeal Hosein,Wayne Parnell, Pollard will be holding the bowling attack of the team.
BT vs JT Prediction: Who will win on 11th July 2016 :-
We all know both the team have quality players like Tridents got AB de Villiers, Pollard, Shoaib Malik where Jamaica got sixer king Christopher Henry Gayle, Kumar Sangakkara, Andre Russell. So it will be tough fight for sure and entertainment will be doubled. Prediction is always a difficult task but if have to do Barbados Tridents vs Jamaica Tallawahs match Prediction we will go with Jamaica.
Our Prediction: JT will have 60% chances of winning this game.
Match Result: Due to bad weather, Match is abandoned.
Complete Match Details :-
BT vs JT Match 12th CPL 2016
                 Vs
Venue
Kensington Oval, Bridgetown
Date
11th July 2016
Time
 20:00 pm (Local Time)
Result
Match is abandoned
So what you think, which team is going to win the match today Tridents or Jamaica ?