BT vs TKR match 16 Prediction | Tridents vs Trinbago Prediction
Today's match is Barbados Tridents vs Trinbago Knight Riders, a huge game supposed to be held Kensington Oval, Bridgetown, this is the second chance of meeting in CPL 2016. On 1 July 2016, Trinbago Knight Riders Won by 11 runs this is the game in which Hashim Amla hits 81 runs on 54 balls. The BT vs TKR is very delicate match of CPL 2016, Barbados Tridents is on 3rd position of Points Table whereas Trinbago Knight Riders at 4th place, performance of  both the team is marvelous in this season even they are the pretenders of Play Offs. Today's match is very confusing in the matter of prediction, its very difficult to judge whom gone a win CPL Match 16. More than cricket fans the persons who believe in betting are more confused because both teams are trusted team, BT vs TKR prediction adrift due to confusion.
Barbados Tridents have most promising players in the team and have a long list of these players specially in case of Batsman, perhaps the first name in the list is of AB de Villiers who is known to everyone in the universe where cricket lovers live he is most lovable batsman whereas Pakistan Origin Shoaib Malik a classic player of T20 format, the team have golden players whom you know very well Kieron Pollard, Kyle Hope, N Pooran.
Barbados Tridents vs Trinbago Knight Riders Match Prediction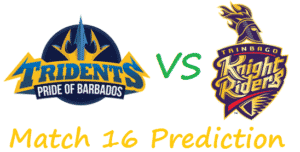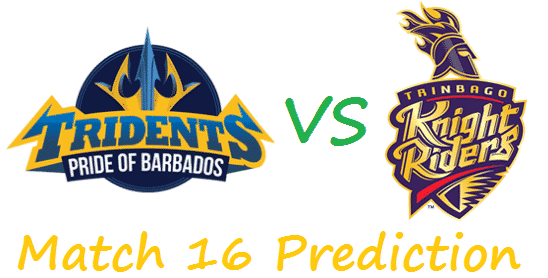 You can say the match is not Barbados Tridents vs Trinbago Knight Riders, it is between the two big celebrities or businessman of India Nita Ambani vs Sharukh Khan. Nita Ambani is wife of Reliance Industries owner Mukesh Ambani's Wife and Sharukh Khan is Bollywood star. Both of them also have teams in Indian Premiere League.
Trinbago Knight Riders led by Dwayne Bravo, the team won 2 match from 5 games the output is little bit low but many chances left to beat other team. The current status in points table is 4th position which not bad. Do you know the precious players of TKR.. ok…tell you… Hashim Amla who is also on top of the table for scoring Most Runs in CPL T20 2016, Dwayne Bravo he is local boy of the team, Brendon McCullum, C Munro, Darren Bravo.
Previous TKR vs BT Match Report: The Knight Riders were tottering during the fifth over at 20/4. One more wicket and the Tridents could have maybe restricted the Knight Riders to a total less than 150. The captain of the Knight Riders, Dwayne Bravo and South African Hashim Amla put together a 150 run partnership to take their team to a respectable total of 170. The Tridents started well with Taylor, but he too was not able to get the boundaries in the middle overs. Pooran provided some late entertainment, but a series of quick wickets was too much of a setback for the Tridents to overcome on this slow pitch at Queens Park Oval
BT vs TKR Toss Stats:
The team face to face in CPL since 2013 to 2016  seven times.. yes.. and BT vs TKR are final teams who play in CPL 2015. Trinbago Knight Riders is the defending champion of CPL 2015 whereas one match against Barbados Tridents already won by 11 runs. You may not familiar with the records of toss, Trinbago Knight Riders is the team who never lose toss in front of Barbados Tridents… yes all the toss (7/7) won by TKR.
The match which Barbados Tridents lost only one game in this season which was against Trinbago Knight Riders now the team had beat almost every team and have capability, all the players are in the form. Barbados Tridents predicted to win match 16 with this win team reach to 2nd place of points table 2016.
BT vs TKR Head to Head Records:
| | |
| --- | --- |
| Total  | 7 Match |
| Barbados Tridents | 3 Win |
| Trinbago Knight Riders | 4 Win |
Here is the complete Match Details :-
BT vs TKR Match 16th CPL 2016
                 Vs
Venue
Kensington Oval, Bridgetown
Date
16th July 2016
Time
 12:00 pm (Local Time)
Result
 TKR won the match by 7 wickets