IPL 2016 Opening Ceremony Performers, Venue, Date, Time, Online Tickets
Just few days are remaining for the grand cricket carnival and before starting of tournament an event is held every year the IPL Opening Ceremony. In this event various Bollywood stars as well as big Music Bands from various countries are invited to perform. The venue of IPL 2016 opening ceremony is decided as the Dome @ NSCI-SVP Stadium in Mumbai of and the date will be just one day before first match of Indian Premier league i.e. 8th April 2016. So now every body wanted to the celebrities which will perform in the event. Katrina Kaif, Ranveer Singh, Yo Yo Honey Singh are few from the others which are confirmed for the ceremony. Other than these all-girl English band TBC, music group "Major Lazer" and American singer Chris Brown are also invited.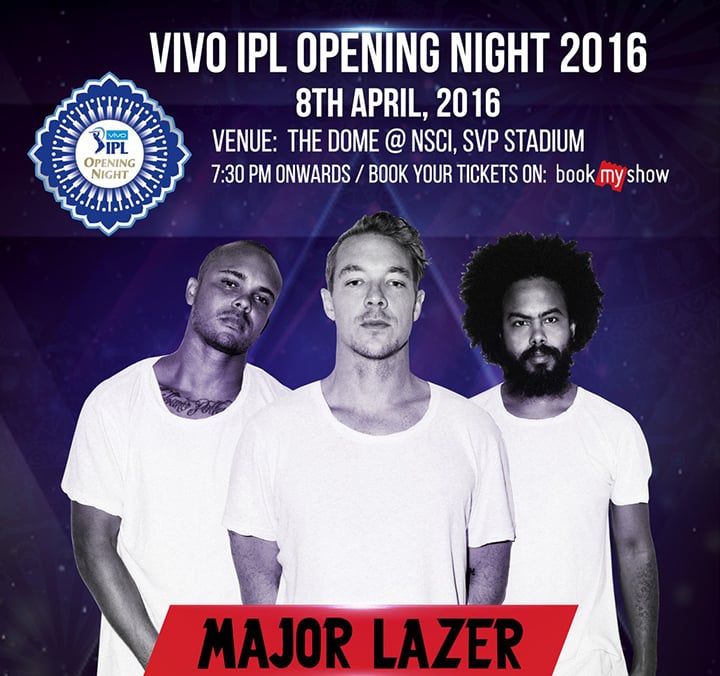 So it will be grand night than the previous one. More than 200 mass dancer will be there with the other celebrities. Katrifa Kaif will rock the stage with his dance moves and sexy looks. Ranveer Singh which is also known for his naughty nature, his drama and dance style will be there with a blasting performance. Jacqueline Fernandez along with Indian rap singer Honey Singh will have blast of entertainment in the grand Opening ceremony.
Here is the full Details of the IPL 2016 Opening Ceremony :-
Date: 8th April 2016
Venue: the Dome @ NSCI-SVP Stadium in Mumbai
Performers: All-girl English band TBC, Major Lazer,Chris Brown, Ranveer Singh, Katrifa Kaif, Jacqueline Fernandez, Yo Yo Honey Singh
Timing: 7:30 pm
Have a Look : Indian premier League 2016 Schedule PDF
How to Book Tickets Online :
If you want to book online tickets then just log on to Bookmyshow.com and look for the link IPL T20 2016 opening ceremony, just click on it and book your seats for the grand entertaining event of IPL 9.