IPL T20 2016 Points Table| Team Standings |Top 4 Teams of IPL 9
From 9th April the biggest T20 cricket tournament Indian Premier League 2016 is going to start in India. IPL T20 2016 Points table will decide the team ranking and the top 4 teams in the table will go to the play-off round. Cricketer from all around the world will participate in the tournament. In IPL 2016 total 8 teams are participating in which two teams are new which are included in place of Chennai Super Kings and Rajasthan Royals. Both the teams are banned by the supreme court due to some fixing allegations. Gujarat Lions and Rising Pune Supergiants are the new members of IPL 9.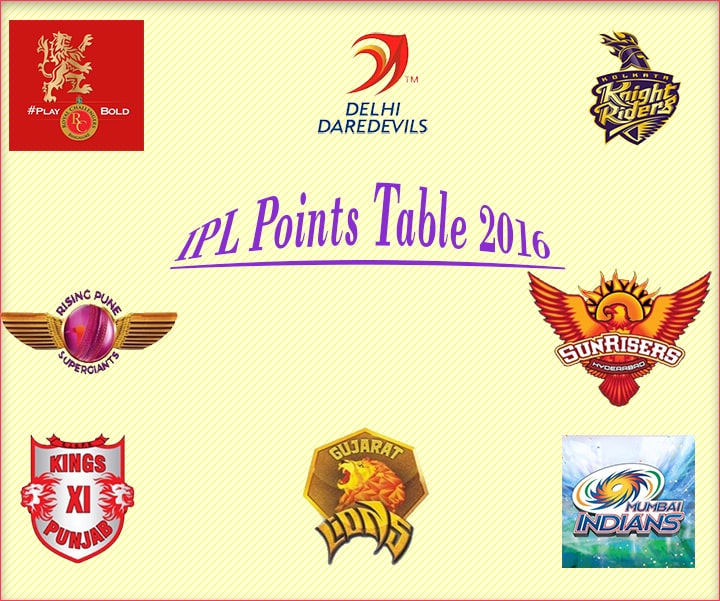 First League matches will be played and the tournament will get started with MI vs RPS match. Each team will play with other 7 teams twice which means that total 14 matches will be played by each team. After the league stage Team Standings in the IPL 2016 Points table will decide the names which will go to the next level of the League. Top 4 teams of IPL 9 in the table will qualify to the play-offs in which 3 matches will be played.
Qualifier 1st : In this match top 2 teams of the IPL points table will battle and the winner will directly go to the Finale.
Eliminator 1st : Teams at no. 3 and no. 4 position will play in this match and the winning team will proceed to Qualifier 2nd . Loosing team will get eliminated from the tournament.
Qualifier 2nd : In this match the losing team of qualifier first and winner of eliminator 1st will play the match and the winner will go the final of the tournament.
Have a Look: Orange Cap Holders of each season
So this is how the Play-offs round go and it shows the importance to being in top 2 in the table. Each team will try to get themselves in the top 4 to get qualified to the play-offs and the only thing which will decide the team standing is no. of points in the
IPL T20 2016 Points table with  net run rate :-
Update: GL, RCB, SRH and KKR are qualified into the play-offs as they are the top 4 teams of the IPL 2016 .
Update: Royal Challengers Bangalore defeated Gujarat Lions in the Qualifier 1st and entered into the finals of IPL 9.
All teams knows the importance of Net run rate as it is major team ranking deciding factor. Better NRR better chances of ranking high in the table. Keep visiting this page for better Team Standing updates of Indian premier League 2016.