List of IPL Orange cap holders: Highest run scorer of IPL
|
Indian Premier League one of the biggest T20 League of cricket world was founded by BCCI in 2008. Players from across the world participate in this league. Various rewards are given to the players for their contribution such as top run scorer as Orange Cap, top wicket taker as Purple cap etc in the IPL matches played. So the IPL Orange Cap is given to player for the highest run scorer throughout the tournament.
The IPL teams are formed by bidding for players in auction by the franchise. Till now, eight season of the league has been conducted where 7 batsman are successful in getting this award Shaun Marsh (616 Runs), Matthew Hayden (572 Runs), Sachin Tendulkar (618 Runs), Chris Gayle (608 Runs), Chris Gayle (733 Runs), Michael Hussey (733 Runs), Robin Uthappa, David Warner (562 Runs) are those players who scored highest run score in the IPL. The details of same given below in the table.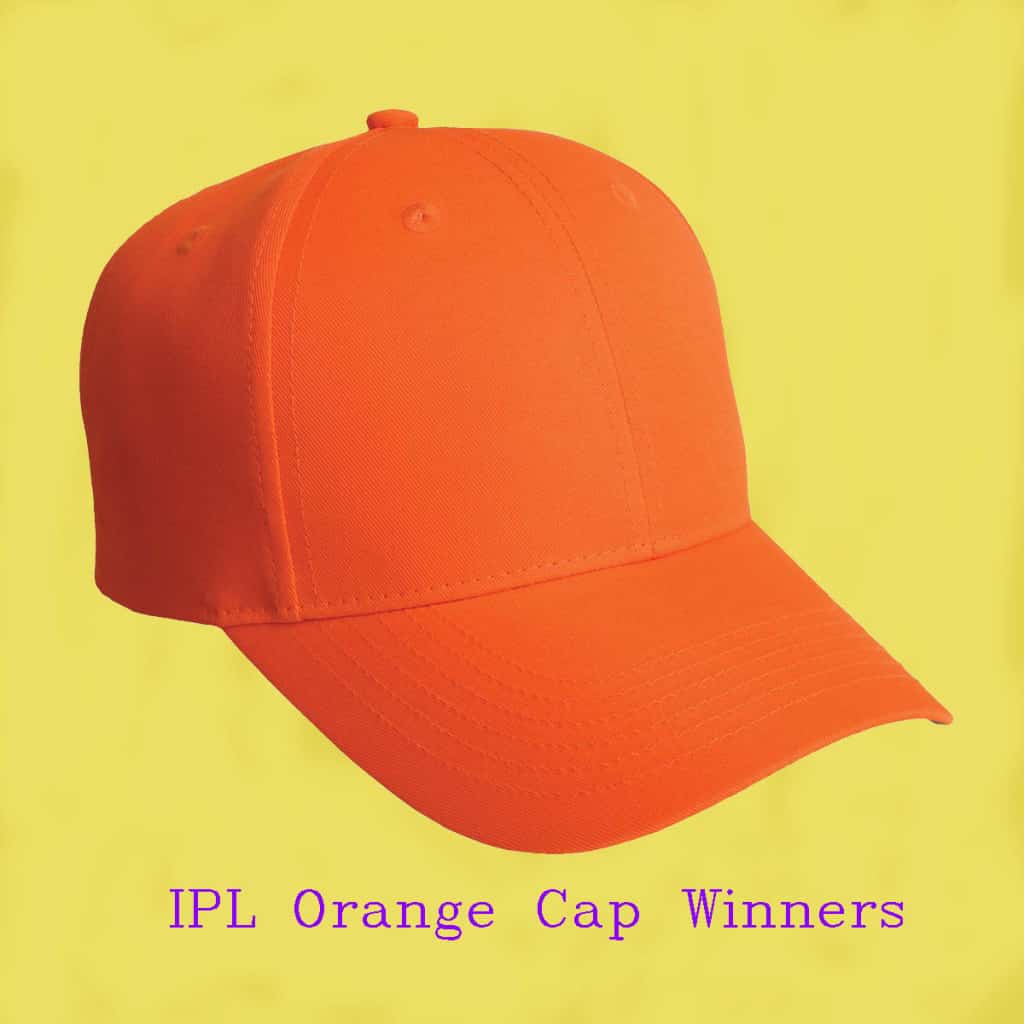 IPL Orange Cap Winners & their Performance :-
Season
Player
Inn
Runs
SR
Average
HS
2008
Shaun Marsh (KXIP)
11
616
139.68
68.44
115
2009
Matthew Hayden (CSK)
12
572
144.81
52
89
2010
Sachin Tendulkar (MI)
15
618
132.61
47.53
89*
2011
Chris Gayle (RCB)
12
608
183.13
67.55
107
2012
Chris Gayle (RCB)
14
733
160.74
61.08
128*
2013
Michael Hussey (CSK)
17
733
129.5
52.35
95
2014
Robin Uthappa (KKR)
16
660
137.78
44
83*
2015
David Warner (SRH)
14
562
156.54
43.23
91
2016
Virat Kohli
(Current)
16
973
148.14
81.90
113
Check full Table of Leading run scorer of IPL 2016
IPL highest run scorer of each season :-
IPL 2008 : SHAUN MARSH:
Shaun Marsh is an Australian cricketer and is the one who is most benefited by the IPL. He has been introduced to league by Kings XI Punjab out of the bid and since then has played in Kings XI Punjab in all seasons. Shaun Marsh is a key player of them. He is an opener batsman who is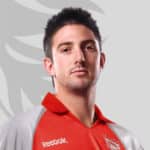 able to give a fly start in the match required in T20 Format. His ability of consistent performing  as an opener and as a stable batsman in hard situation makes him most favourable among the team. His brilliant performance in Indian premier League 1st season made him the highest run scorer for which he was rewarded with Orange Cap. His best performance in League was against Rajasthan Royals where he score 115 runs off 93(4s-11 & 6s-7). In season 1, Shaun Marsh has scored total 616 runs in 11 matches with an average of 68.44. Till now he has played 50 matches scoring 1903 runs with 44.25 average. His strike rate in the league is 133.26.
IPL 2009: Mathew Hayden

The second season IPL Orange Cap holder was once again an Australian Cricketer playing for Chennai Super Kings. He scored 572 runs in 12 matches. His strikes rate of 144.81 proves that the T20 format is not only for the young players.
IPL 2010: Sachin Tendulkar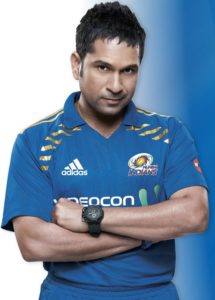 With the highest run scorer record in Test and ODI there are no batting records which Sachin has not named into his names. Sachin has played in IPL from 2008 to 2013. He was the icon player of Mumbai Indians and captained the team. In season 3 of Indian premier league Tendulkar broke Shaun Marsh record of scoring most runs in a season. He scored 618 runs in 14 matches with five half-centuries. His best performance in season 2 was against Rajasthan Royals where he played an inning of 89 runs not out.
IPL 2011 & 2012 : Chris Gayle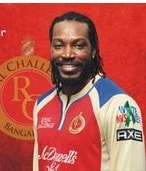 Gayle is the batsman to whom every bowler is afraid of, known for his devastating batting with smashing boundaries all around the field. The first 3 season of IPL were not so good for this batsman as he was not in the form. But in 2011 when Gayle was bought by Royal challengers Bangalore from Kolkata knight Riders. Watching this man batting was an eye candy for the spectators.He was the IPL Orange Cap holder for the season 4 & 5. In 2011, he became the first player to hit two Centuries in one season of Indian Premier League and topped the chart with most run and sixes into his name. In season 5 he scored 733 runs with 1 hundred in his name.
IPL 2013 : Michael Hussey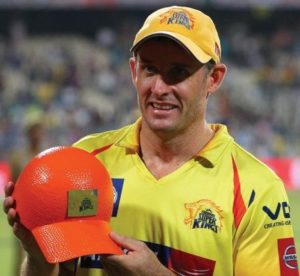 Another Australian cricketer Michael Hussey which played in tournament for CSK from 2008 to 2013, awarded by Orange cap for the 2013 season. In 2014, Hussey was bought by Mumbai Indians but again joined CSK in 2015.  He was the highest run scorer for 2013 scored 733 in 17 matches.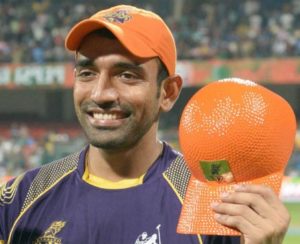 IPL 2014 : Robin Uthappa:
In season 7, Robin Uthappa played for Kolkata Knight Riders, after playing for RCB and Pune Warriors in previous seasons . He gained IPL Orange Cap for him being the top run scorer of season 7, scoring 660 runs in 16 matches and created a record in T20 for scoring 40+ in 8 consecutive matches. He also broke Hayden's record for scoring  40+ runs 11 times in a season.
IPL 2015: David Warner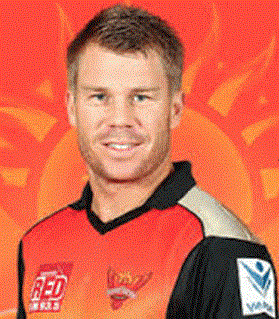 David Warner played for Sunrisers Hyderabad in 2015 . He almost single-handedly won the matches for Sunrisers in group stages. He has only played 14 matches scoring 562 at strike rate of 156.54. Though his brilliant performance could not make hos team to enter in knock off stages but he was the IPL Orange Cap winner for the 2015 season scoring highest run in the season.
IPL 2016 : Virat Kohli
The Captain of Royal Challengers Bangalore Virat Kohli who scored 973 runs in 16 innings became the Orange cap Holder for the 9th season of Indian Premier League. He has scored highest runs in any season of the tournament. He has scored 973 runs with an impressive average of 81.90 which is also highest among others. Unfortunately his team lost in the finals by 8 runs against Sunrisers Hyderabad but he has impressed every one this his performance. He has also smashed 38 sixes in the league which is highest by any batsman. In 2016 he has made 4 centuries into the tournament and just one century behind Chris Gayle. So this year Virat Kohli is exceptional and made many records in the IPL 2016.