MI vs RPS IPL 2016 1st Match : Mumbai vs Pune Scorecard
|
Countdown has begun, only few days remaining for the Indian cricket festival IPL 2016 and it will kick-start with MI vs RPS T20 Match which will be played on 9th April on Wankhede Stadium. The Live scorecard of the match will start at 8:00 pm in India. You can watch the 1st Match of IPL 9 Mumbai Indians vs Rising Pune supergiant on your television sets. This year again Sony will be the official broadcaster of the Indian Premier league. Sony Max and Sony Six are the channels on which live telecast of the match will be broadcast.
This year two new teams are included in place of Chennai super kings and Rajasthan royal as they are banned for the next two season. Gujarat Lions and Rising Pune supergiants are the new teams. RPS team will be in action on Wankhede stadium for the first time in the league. Mahendra Singh Dhoni will be the captain of the team. Their squad looks so strong on the paper. Australian captain Steven Smith and South African batsman Faf du Plessis, Kevin Pietersen, R Ashwin are few of the key player of the Pune team.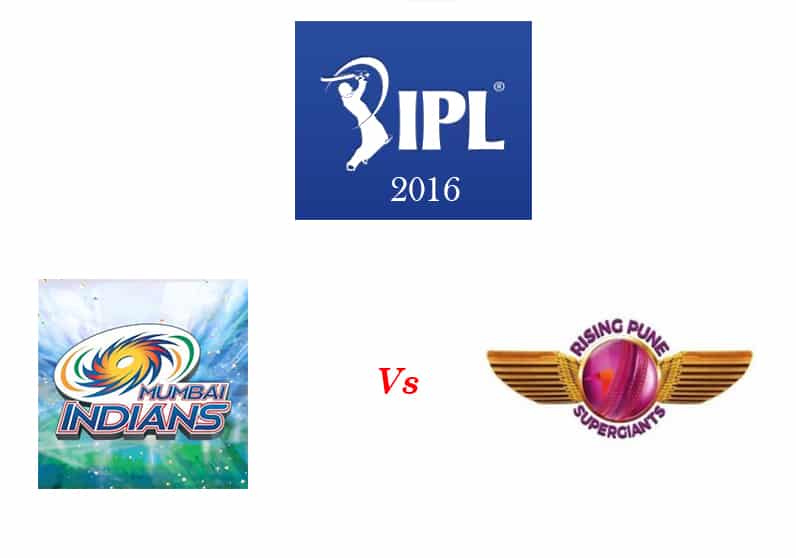 If we look onto the Mumbai Indians they have won the IPL title twice and the defending champions of IPL 2016. Young Rohit Sharma will be the captain of MI team. The squad is fully loaded with big players like Kieron Pollard, Lendl Simmons, Lasith Malinga, newly included Jos Buttler, Tim Southee and the list continues.
So it will be tough match to win for both the teams on Wankhede stadium. As far as entertainment is concerned definitely it will be high scoring match. Average score on this ground is 180+ runs. So runs will be raining on 9th April in the 1st Match of Indian premier league.
Here is the team squad of both the sides for Mumbai vs Pune Match IPL 9:-
Mumbai Indians :
Rohit Sharma (Captain), Akshay Wakhare, Ambati Rayudu, Harbhajan Singh, Hardik Pandya, J Suchitch, Jasprit Bumrah, Nitish Rana, Parthiv Patel, Ranganath Vinay Kumar, Shreyas Gopal, Siddhesh Dinesh Lad, Nathu Singh, Krunal Pandya, Deepak Punia, Kishore Kamath, Jiten Shrama, Unmukt Chand, Corey Anderson, Keiron Pollard, Lasith Malinga, Lendl Simmons, Marchant de Lange, Mitchell McClenaghan, Tim Southee, Jos Buttler.
Rising Pune Supergiants :
Ankit Sharma, Baba Aparajith, MS Dhoni (Captain), Francoisdu Plessis, Peter Handscomb, Jaskaran Singh, Ravichandran Ashwin, Murugan Ashwin, Ankush Bains, Rajat Bhatia, Scott Boland, Deepak Chahar, Ashok Dinda, Mitchell Marsh, Albie Morkel,  Ishwar Pandey, Irfan Pathan, ThisaraPerera, Kevin Pietersen, Ajinkya Rahane, Ishant Sharma, RP Singh, Steve Smith, Saurabh Tiwary, Adam Zampa.
Complete Match Details :-
 MI vs RPS IPL 2016 1st Match 

Vs

Venue
Wankhede, Mumbai
Date
April 9 2016
Time
8:00 pm
Toss
Mumbai and elected to bat first
Download: Indian Premier League Schedule 2016 PDF
The Live Scorecard of the match will be updated as soon as match starts.
MI: 121/8 in 20 overs
RPS: 126/1 in 14.4 overs
Match Result : Pune won the match by 9 wickets in 14.4 overs
Man of the Match: Ajinkya Rahane
Here is the MI vs RPS match Scorecard :-
Mumbai Indians Innings :-
BATSMEN
RUNS
BALLS
SR
4S
6S
Lendl Simmons
b Ishant Sharma
8
8
100.00
0
1
Rohit Sharma
lbw Ishant Sharma
7
5
140.00
1
0
Hardik Pandya
c MS Dhoni b Mitchell Marsh
9
11
81.81
2
0
Jos Buttler
c Ravichandran Ashwin b Mitchell Marsh
0
2
0.00
0
0
Ambati Rayudu
c Francois du Plessis b Ravichandran Ashwin
22
27
81.48
2
0
Kieron Pollard
lbw Rajat Bhatia
1
8
12.50
0
0
Shreyas Gopal
c Ajinkya Rahane b Murugan Ashwin
2
16
12.50
0
0
Harbhajan Singh
NOT OUT
45
30
150.00
7
1
Vinay Kumar
c Steve Smith b RP Singh
12
11
109.09
0
1
Mitchell McClenaghan
NOT OUT
2
2
100.00
0
0
EXTRAS
(w 12, lb 1)
13
TOTAL
(8 wickets; 20 overs)
121
RPS Bowling :-
| BOWLER | O | R | W | ECON | |
| --- | --- | --- | --- | --- | --- |
| RP Singh | 3 | 30 | 1 | 10.00 | 7 |
| Ishant Sharma | 4 | 36 | 2 | 9.00 | 15 |
| Mitchell Marsh | 4 | 21 | 2 | 5.25 | 13 |
| Rajat Bhatia | 4 | 10 | 1 | 2.50 | 17 |
| Murugan Ashwin | 4 | 16 | 1 | 4.00 | 13 |
| Ravichandran Ashwin | 1 | 7 | 1 | 7.00 | 2 |
Rising Pune Supergiants Innings :
BATSMEN
RUNS
BALLS
SR
4S
6S
Ajinkya Rahane
NOT OUT
66
42
157.14
7
3
Francois du Plessis
b Harbhajan Singh
34
33
103.03
1
3
Kevin Pietersen
NOT OUT
21
14
150.00
0
2
EXTRAS
(nb 1, w 3, lb 1)
5
TOTAL
(1 wickets; 14.4 overs)
126
MI Bowling :-
BOWLER
O
R
W
ECON
DOTS
Mitchell McClenaghan
3
27
0
9.00
10
Jasprit Bumrah
3
30
0
10.00
10
Vinay Kumar
2
14
0
7.00
6
Shreyas Gopal
3
18
0
6.00
5
Harbhajan Singh
3
24
1
8.00
6
Hardik Pandya
0.4
12
0
18.00
2