Top 10 Batsmen with most sixes in IPL 2017: Maximum number of sixes
|
T20 cricket is known for big shots and considered as a batsmen game. And so the Indian Premier League is known for. Batsmen with most sixes will be the key for any T20 tournament and will be the player for which every team starves for. In this post we are bringing here for you the list of top 10 batsmen with maximum sixes in IPL 2017.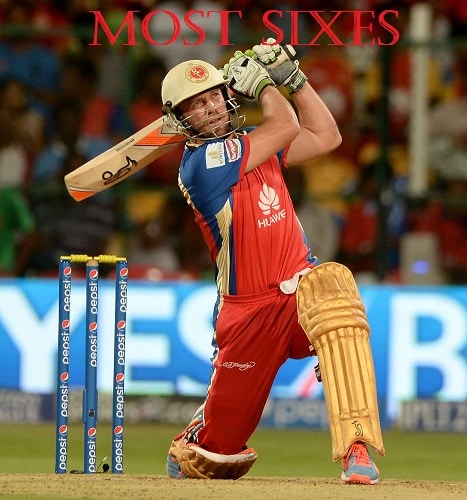 Indian Premier League has already started on 5th April 2016 and the final match will be played on 29th April 2016. Like every season, in this year also many records will be made and many records will be broken. Each and every cricket fan want to see their favourite batsman to hit boundaries and if these boundaries are sixes then it is a treat for the fans. For a match where each and every run counts, scoring six at such a crucial moment changes the result and that is why a team backs on a long hitter batsman.
Also check- Orange and Purple cap holders in IPL 10
We know that there is always a curiosity in you to know the batsman who has hit most sixes in IPL 2017. So we are here with the updated list of top 10 batsman with highest number of sixes.
| Player | Team | Total sixes | Innings | Highest score |
| --- | --- | --- | --- | --- |
| Virat Kohli | RCB | 38 | 16 | 113 |
| AB de Villiers | RCB | 37 | 16 | 129* |
| David Warner | SRH | 31 | 17 | 93* |
| Chris Gayle | RCB | 21 | 10 | 73 |
| Lokesh Rahul | RCB | 16 | 11 | 68* |
| Rohit Sharma | MI | 16 | 14 | 85* |
| Brendon McCullum | GL | 15 | 16 | 60 |
| Kieron Pollard | MI | 15 | 11 | 51* |
| Andre Russell | KKR | 15 | 8 | 39 |
| Krunal Pandya | MI | 13 | 8 | 86 |